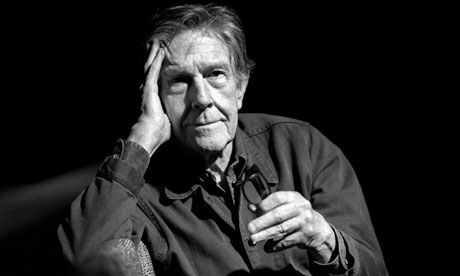 John Cage was a creative, innovative master of music. He was one of the original Black Mountain School of Arts in the Blue Ridge. Black Mountain School was in the 1940-1950's was filled with artists who would later become famous on the national and international scene.
Operating in a relatively isolated rural location with little budget, Black Mountain College inculcated an informal and collaborative spirit and over its lifetime attracted a venerable roster of instructors. Some of the innovations, relationships, and unexpected connections formed at Black Mountain would prove to have a lasting influence on the postwar American art scene, high culture, and eventually pop culture.[

citation needed

] Buckminster Fuller met student Kenneth Snelson at Black Mountain, and the result was the first geodesic dome(improvised out of slats in the school's back yard); Merce Cunningham formed his dance company; and John Cage staged his firsthappening[3] (the term itself is traceable to Cage's student Allan Kaprow, who applied it later to such events).
Not a haphazardly conceived venture, Black Mountain College was a consciously directed liberal arts school that grew out of theprogressive education movement.
Source, Wikipedia, Black Mountain School of Arts
I went to a University that was at the beginning of its creation. University of South Florida was patterned after UCLA to be innovative and progressive. Many professors and speakers are drawn to a new university and mine was no exception. I had the wonderful privilege to have many innovative professors and hear exceptional national speakers. Two I will always remember were Joseph Albers and Carl Sandburg. Both were remarkable men that influenced me the rest of my life. Joseph Albers was one of the founders and administrators of Black Mountain School of Arts. Another of my favorite artist that taught at Black Mountain was Robert Rauschenberg.