HOW ARTISTS LOOK AT NATIONAL DISASTERS
The arts are able to say things in ways we can't always express. Sometimes it is a poem, music, theater, dance, or visual arts. Lets look at how a sampling of visual artist look at Earth events that effect us as humans who inhabit this ever changing planet.
When I was five years old, my family lived near two rivers that converged in the town where we were. Dams had yet to be built to protect towns on the lower ends of the rivers. There was a great flood that game to the front porch of our house. My Mother gave me the job of watching the floor furnace and if the water came in I was to come and tell her. In my young mind I had an important job. They delivered groceries by boat to us, but we were able to stay, the water receded and we were safe. The picture is etched in my mind, as so many disasters world wide children and adults live through. I have never tried to draw that moment...perhaps I should. Perhaps I could show how large that furnace looked to me, and the view a child saw of water that lapped on the porch and seemed to go on forever. What are you memories, what are your experiences with natural disasters?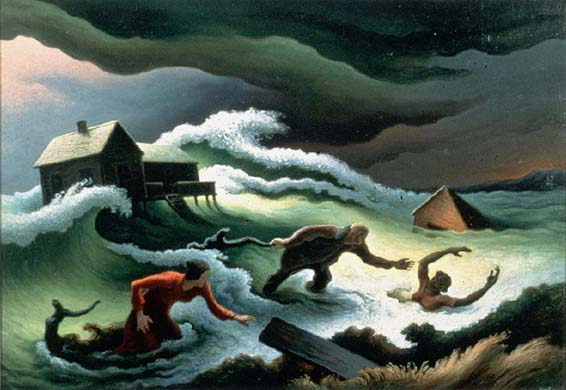 Flood

from google image
1953 Southwold Flood by Frank Forward U.K. google image
1927 Mississippi Flood by Cohen google image
Soapy Smith Flood of 1800's

google image