Sometimes the world seems so crazy and out of control that we forget to focus on the good things that are going on.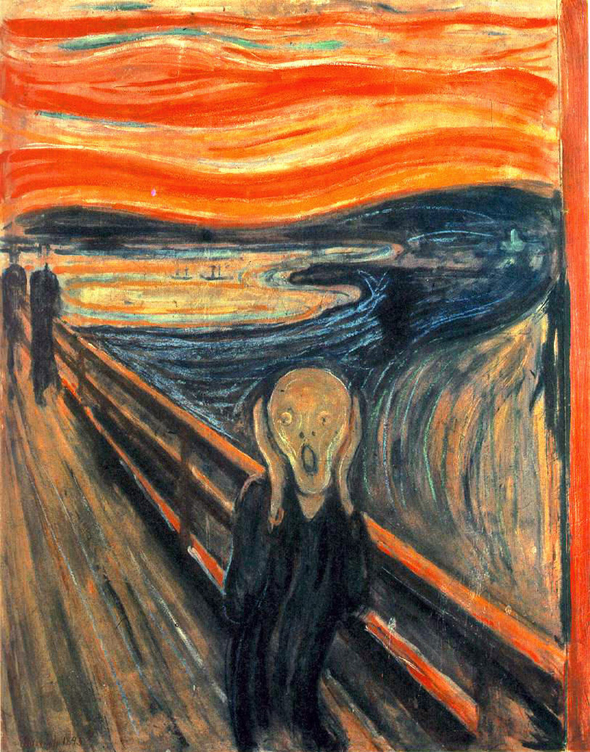 The Scream by Edward Munch
T
he news is full of negative drama that is how they sell their programs.
With 24/7 cable news which is non stop drama these days. It is so much so that we can begin to accept it as our reality. There are so many people who find it to their advantage to divide us against each other. They split us and find our differences and dramatize them to be more important than our commonality. They do not highlight the ways in which humans find to be alike, compassionate, and
tolerant.
from google

But there is so much good happening
and so many new young creative thinkers who see the world and society in a refreshing new way. They are coming up with new solutions to old problems. This new spirit is world wide, not exclusive to the United States, or Europe. I think it behooves us to look at this new spirit that is born, that is developing, and that will change the world in positive ways that those of us of older generations cannot perceive yet. I am proud much of this change comes from something all artist cherish and that is creativity. Many of the changed thinking comes from artists, but creative thinking is being seen across all occupations and areas...from building to farming to societal living, to front yards that are farms, to art studios using land fill gases to fire kilns, and 12 years olds who solve medical issues like cancer treatment.
One of those groups we highlighted recently:
Energy Exchange
, a studio that uses land fill gases to power their kilns and torches. They use renewable energy to support artist and their studios. Built on top of an old dump, the methane gases are trapped and used by the studio's for energy for firing kilns and using torches for glass work.
Energy EXchange

Burnsville, North Carolina
Center for the World Arts at the University of Florida is another wonderful program doing positive good things in this world. Highlighting the all the arts across the worlds varying cultures this program builds understanding, acceptance and appreciation.
WORLD ART CENTER University of Florida

from google for educational purposes only
Philadelphia Mural Program
is a wonderful idea that was started because of something very bad happening in the city of Philadelphia Old buildings falling down had become the backdrop for gang related graffiti that was a growing problem in communities. Someone had an idea, let artists do a mural on the buildings and hide the graffiti. But it was decided there must be community input to be successful. So neighbors and local businesses were contacted to see what kind of mural they wanted. Artists were paired with the idea and murals created. An interesting thing happened, the graffiti stopped on the buildings that were painted..so more and more were added in neighborhood after neighborhood. Now the program is huge, teaching other cities how to do this with workshops, and there is a three day tour one can take to see all the murals.
Murals of Philadelphia google image
The Orchestra of Instruments from Paraguay
Children who are born into extreme poverty often never have a chance to escape from their situation. In Cateura, Paraguay something good is happening children are making instruments from the refuse left in the dumps where they live and playing them!
"We want to provide a way out of the landfill for these his and their families. So we're doing the impossible so that they can travel outside Paraguay, to become renowned and admired," said Favio Chavez, a social worker and music teacher who started the orchestra."
George Rodrigue and the Blue Dog Charity Foundation
The George Rodrigue Foundation helps fund the school arts program in Louisiana. The schools have inadequate funding for the arts and George, being a native of Louisiana, would like to see kids have the chance to develop their creativity. The Rodrigue foundation also donates art work for charity auctions to help them with fund raising. George Rodrique is a man with a big heart and a generous soul. It is with great sadness I learned today doing this post that he is fighting lung cancer.
El Sistema/ Venezula /USA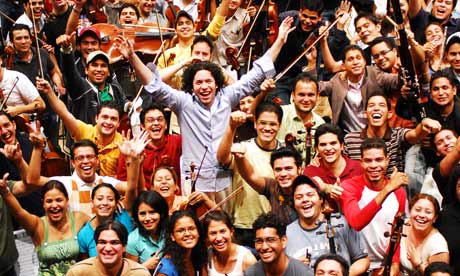 Gustavo Dudamel with Venezuela's Orchestra for Children
An Instrument for Every Child
In Venesula an innovative program was created to help overcome the effects of poverty on children and a society. The program was called El Sistema. The program was publicly financed voluntary sector music education program in Venezuela. It was founded in 1975 by economist and musician Jose Antonio Abru under the name Social Action for Music. It is a National Network of Youth and Children's Orchestras of Venezuela. The orchestra is now led by an energetic and charismatic Gustavo Dudamel.
Richard Riley Institute
Richard Riley

Past Secretary of Education and Founder of the Richard Riley Institute
South Carolina is a poor state like many in the Southern United States. Schools there do not always have adequate funding and in some regions more than others, it is a struggle to provide a quality education for children, especially in the poorest areas. The institute is named after a progressive Secretary of Education, Richard Riley, who upon leaving his post wanted to do more for his home state. He believed improving education in South Carolina schools was a way to achieve that goal. He also believed that acceptance, tolerance and understanding lead to an enriched community that could achieve more together than divided. The Diversity Program reaches communities throughout the whole state helping people understand each others differences and helping them to learn to get along and work together on common goals. Leadership training is another avenue of the Riley Institute for developing visionary leaders helps strengthen a community toward the common good. The Riley Institute offers many other programs that all help build a better world for children in that state. The new program to build New Tech schools which will focus on teaching problem solving which is the cornerstone of creativity.
Dr. Don Gordon, Director of The Richard Riley Institute

I have a special fondness for this institute and have followed its growth through the years since the director is my brother, Dr. Don Gordon. He is a tireless worker and reflects the heritage our parents left us, which is one of compassion and understanding for all people and a belief that education is the key to the better future for all.
As I go this list of people and groups doing good for the world I realize how this could go on forever, then I thought "why not". ?! So I will continually add the good news and people doing good articles through the life of this blog. Next I would like to focus on some individuals and small businesses, small towns, small groups trying to do something good for people using creativity and the arts.