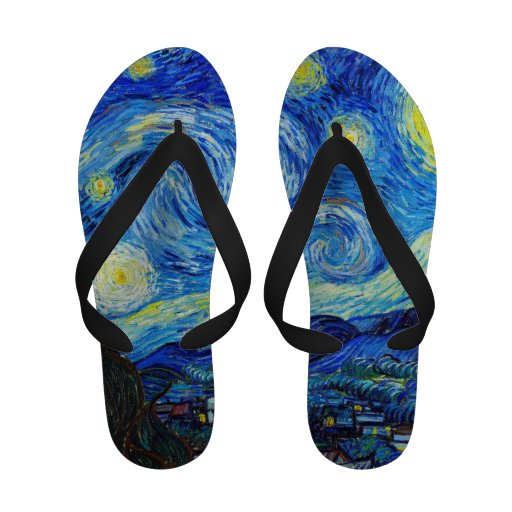 Flip Flops Starry Night
When I was doing the previous post with the quote from Vincent Van Gogh,
it reminded me of an incident
that happened when I was teaching art at Rawlings Elementary in St. Petersburg, Florida. We had been working on a unit on Van Gogh.
I even took a mannequin and dressed it up to look like Van Gogh with straw hat and all.
I put a paint brush in his hand and had him standing near where the kids sat on the rug for motivation before going to their tables to draw.
We had looked at all his periods of painting, from the darker somber Potato Eaters, to Sun Flowers to Starry Night. Elementary children love Van Gogh, the colors and movement of his work appeal to them...and of course the cutting off the ear thing!
from google for education only
One morning a 4th grade boy came in so excited. He drew out of his pocket lined writing paper with a pencil drawing. It was folded and a bit wrinkled. He unfolded it, the biggest grin shown across his face and his eyes lit up as he said, "Look what I have drawn Ms. Gordon!" There was a drawing of Starry Night, just like we had been
studying...but it was drawn on the side of a Nascar Racing car, as if it had been spray painted on! I knew I had made it as an art teacher! If I could get my kids from very poor homes and challenged lives to love Van Gogh so much that they would paint the side of their race car, I had really done well! So if you see Starry Night on a NASCAR Race track car, or on at tattooed arm, or on a prison wall...it might just be one of my ex students..and if you do, tell them Ms. Gordon is so proud of them!!
So lets look at some of the images in all kinds of media and on all kinds of surfaces I found! Vincent Van Gogh would probably roll over in his grave if he could see where some of his art appears! But we know when an image is so assimilated into our culture it is well loved. There must be some other very successful art teachers out there doing a great job!!!
from google for education only
Starry Night Tattoo
Starry Night Car Design on a Honda