ROBBEN ISLAND THE PRISON YEARS
VIEW FROM CELL ROBBEN ISLAND NELSON MANELA
from google for education only
There is much you may know about the extraordinary life of Nelson Mandela, but I doubt many of you knew about the art work he did while in prison! I too was surprised and was not aware of his art work.
Nelson Mandela was approached by a groups to produce a group of lithographs.
"In 2002 whilst in New York, we learned that Nelson Mandela had indeed started to draw and that his lithographs were to be launched a few months later. Mr Mandela had been invited to participate in a program me which would have him drawing a series of works whose sales could achieve great results." Quoted from Belgravia Gallery article
"
In 2002 we spent a happy and memorable time with him at his home in Johannesburg where he told us of his vision to use the art to help underprivileged children affected by HIV and the associated poverty and isolation. We were very privileged to be entrusted with the sale of his art to allow this vision to continue.
He credited Princess Diana for making him aware of the nature and scale of the human disaster. He chatted easily and warmly about the Royal Family-mentioning meeting "Elizabeth":
Prison on Robben Island

from google for education only
"I recognise you from the stamps," he quipped and the Queen responded, "And I recognise you from the tee-shirts." Mrs Thatcher also delighted him with her skills at making and pouring tea.
A few weeks later, together with our family, clients and friends, we joined Nelson Mandela at a dinner on Robben Island in 2003, to launch his artwork. He spoke of his love of color and joy at drawing, and told us that when he finally retires, he would like to become a full- time artist.
Arguably the greatest statesman of the twentieth century, his achievements and personal triumph have become a powerful symbol to people all over the world that good will ultimately prevail" Quoted from the site of the Belgravia Gallery.
I think this is a beautiful story about Nelson Mandela and his art work. Art has a healing effect on people who are going through horrific experiences and great trauma. Self expression helps us to deal with things that seem impossible to live through. Evidently Nelson Mandela found his love of art again in his 27 years in prison. He came out of prison a loving and positive man, not a broken and bitter one. He found a way, not only to survive, but to heal and move forward.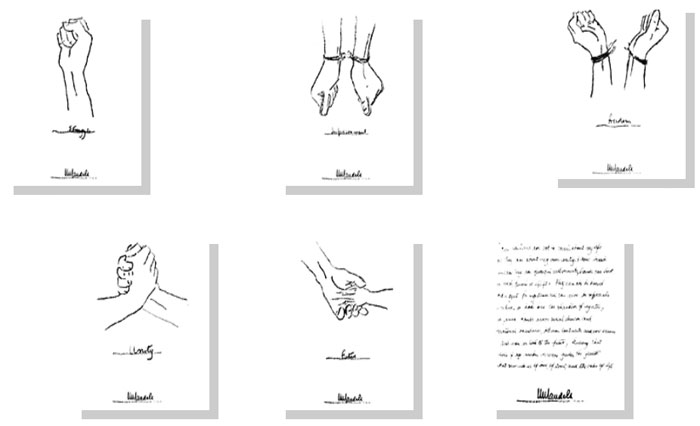 "These sketches are not so much about my life as they are about my own country. I drew hands because they are powerful instruments, hands can hurt or heal, punish or uplift. They can also be bound but a quest for righteousness can never be repressed. In time, we broke lose the shackles of injustice, we joined hands across social divides and national boundaries, between continents and over oceans and now we look to the future, knowing that even if age makes us wiser guides, [it is] the youth that reminds us of love, of trust and of the value of life." 25.7.2001 N Mandela